Molded-Fiber Roll CRADLES
WHY CRADLES? Packaging cradles help optimize freight and storage, while offering enhanced safety and controls when transporting product. 
WHY FIBER? Fiber cradles can used in various applications. The material itself does not only provide protection, such as cushioning properties, but also helps protect against the elements and helps absorb moisture while in transit without the compromise of integrity.  Plus, this sustainable alternative to traditional foam packaging products enables customers to support their sustainable commitments and can rest assured with our third-party certifications.
WHY OUR CRADLES? Sustainable roll cradles are made from 100% certified recycled material, making them one of the only certified packaging cradles in-market.  Our cradles are designed for performance offering durability and superior cushioning properties yet are lightweight and economical.  A full portfolio of sizes and styles are available. 
FSC 100% Recycled Certified
USDA Bio Preferred 82% Certified
Made with post-consumer and post-industrial fiber
Manufactured using a closed loop water system
Superior cushioning properties
Protects against the elements (absorbs moisture)
Ergonomically designed for optimal function and efficiency
Tubes | Cores | Edge Protectors
Tubes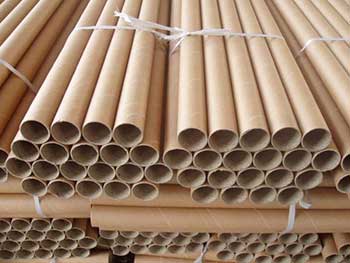 Strong, convenient and dependable, our tubes are manufactured to specification in a wide range of diameters, lengths and thicknesses. The ends can be sealed with attractive closures of metal, plastic, paper or wood. Various colored paper or labels can be applied for an infinite variety of combinations. The inside or outside wraps may be printed for advertisement or identification.
Paper Tubes are ideal for Textile and Fabric shipping, Mailing, Storage, Shipping, Advertising or Display purposes.
Edge Protectors
Edge protectors are a low cost, highly effective way to protect your product in transit and while in storage.
Uses and benefits include:
Stabilization of loads and improved stacking strength when shipping.
Stabilizes strapped or stretch-wrapped loads.
Provides additional support when double-stacking pallets in your warehouse.
Eliminates loads from shifting during "flight"
Easy customization on height variations with an edge protector cutter tool.
Cores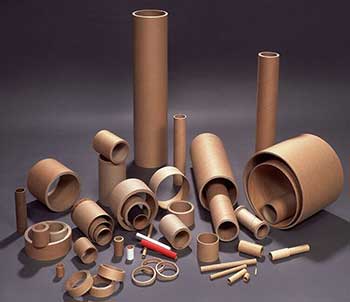 We produce custom paper cores for a variety of industries nationwide. Our specialty is short to medium run custom paper cores for converting, spool and reel manufacturers, ribbon, tape and label manufacturers. Our customers rely on our quality, consistency and fast turnaround. All our custom cores are manufactured to the customer's specifications at the tightest tolerances.
We stock an extensive selection of cores 3.025″ID x .125″ wall in lengths ranging from .50″ to 10″.
Please call for a complete list of available sizes.
Packaging Tape | Printed Poly Tape | Printed Kraft Tape
Packaging Tape
Box-sealing tape, parcel tape or packing tape is a pressure-sensitive tape used for closing or sealing corrugated fiberboard boxes. It consists of a pressure-sensitive adhesive coated onto a backing material which is usually a polypropylene or polyester film which is oriented to have strength in both the long (machine) direction and the cross direction.
A variety of backing strengths and calipers as well as adhesive formulations are available. It is often transparent or tan (beige, buff, brown). Other colors  availableb upon request.
Printed Poly Tape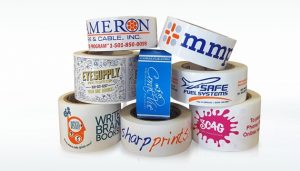 Some of the advantages of using printed tape include the benefit that this prodcut helps to spotlight your company your branded logo. From the moment your packages leave your plant, you are guaranteed visibility and company recognition in every hand it passes through until reaching the final destination. Printed tape instantly identifies the contents of the carton for proper handling and storage. Printed tape also reduces pilferage…it cannot be broken and resealed without detection and warns the consumer not to accept merchandise with a broken seal.
Reinforced Paper Tape

Gummed Tape

Masking Tape

Polypropylene Tape

PVC Tape and more!
Printed Kraft Tape
Advertise your company name and protect your packages with Custom Printed Tape. High grade Kraft paper reinforced with strong fiberglass yarns. Water-activated adhesive bonds to corrugated even in dusty or dirty conditions.
Choose from Economy #240 grade or Industrial #260 grade. Meets Rule 222 specifications. For use with water-activated Kraft Tape Dispensers
Polyester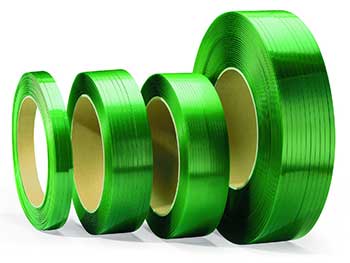 Oriented or tensilized polyester and nylon are the strongest plastic strapping products and are used as a viable alternative to steel strapping in some industries. Polyester provides excellent retained tension on rigid loads. Its excellent recovery properties help a load absorb impact without strap breakage.
There are specialized types available for specific applications. For instance, in cold climates a strap bonded in hot melt glue is used because it is Weather-Proof.
Polypropylene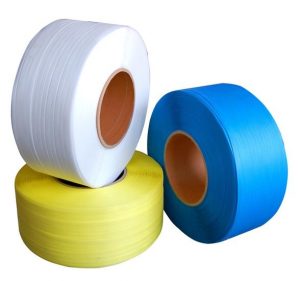 Polypropylene strapping (oriented or tensilized) is an economical material designed for light to medium duty unitizing, palletizing and bundling. It is available in various widths, thicknesses, and polymer variations (e.g., copolymers). Most polypropylene is embossed, some of which is also printed. One major benefit of using Strong polypropylene strapping is that its less than HALF the weight of steel strapping. It is also easier, safer and less expensive to use.
STEEL
Steel is the oldest and highest tensile strength strapping. It is available in a variety of widths and thicknesses as well as variations in the grade of steel. Steel is used for heavy duty holding where high strength and minimal stretch are desired. Surface finishes for steel strap include: paint, paint and wax, bluing or zinc and wax. The wax is used to better transmit the tension around the bundle and for use with certain types of tensioners. Common applications include steel coils, bundles of metal, baling wire, bricks and pavers, and roll end-binding.